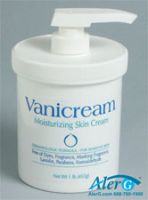 Amazing for extremely dry hands!

I live in the midwest, and have a job where I am constantly washing my hands, and this leaves me with extremely dry hands in the winter time. They turn red, and it almost looks like I have a rash on my hands, especially between my fingers, but it is just very dry skin. I have tried many different hand creams over the years, and even just slathering vaseline on, but nothing really helped. My mother...read more's dermatologist actually recommended this product. I bought it, and my hands were completely cured within a few uses! This product is absolutely amazing! I got a giant 1 pound tub of it, so it's not really portable. Every night when I come home, my hands are a little dry, but using this a few times that night completely heals them for the next day! It is a little sticky, but not horribly so. I have already recommended this to so many people, and my mother and sister have bought it and love it too! One of my co-workers says that this is what her brother in law uses, and he is a doctor. I cannot recommend this product enough! It saved my hands!

does the job

This stuff is amazing. It was recommended by our allergist for my baby's eczema, and it's fantastic. Super thick and creamy, and it keeps her skin feeling moisturized all the way until her next bath.

Best lotion-hands down!

My doctor recommended this lotion while treating me for adult acne. The lotion has a thick consistency and absorbs very quickly(5 mins) and is never greasy feeling. It has no smell and is non-comedogenic. Haven't had a single breakout since using this(after I applied retin-a). It's perfect for dry skin too. Used it on my hands all winter and didn't experience any dryness. Don't be skeptical about the weird name and lack of pretty label. This lotion is the best!!
Back
to top