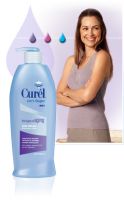 Perfect!

I normally hate lotion, because most leave my sensitive skin greasy and itchy, or smell horrible. This lotion has the PERFECT scent if you wear perfume since it isn't overpowering. My ketaris pelaris(sp) looks ten times better since I started using it. It is NOT greasy, which is mostlty why I hate wearing lotion. My boyfriend who is anti-lotion also, loves it!!! He's even pickier with scents than I am! It's even great when used giving (or geting)a massage!

Very nice lotion!

I really like this lotion. Originally I was going to try Olay Age Transform Creme Serum while at my supermarket, but that was not available. So I tried the Curel instead. Was not disappointed! The price was cheaper, but it moisturizes well and leaves the skin soft with a hint of fragrance. Can't speak on it making my skin look younger, since well...I'm still young, but it does feel nice after applying the lotion.

One of my favorites

I read a review from a magazine a few weeks ago that prompted me to buy this lotion- the article mentioned that this lotion has many of the same ingredients as very expensive anti-aging lotions. So, I bought it and LOVE it. It isn't greasy at all, but my skin stays soft for 24 hours. Plus, I use it on my face and neck- it is much cheaper than "face" products.
Back
to top