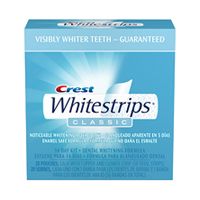 Noticeable Whitening Increases My Confidence!

My mom took an antibiotic in the last stages of her pregnancy with me because she had bronchitis; my teeth have very little enamel because of it, mainly just the underlying layer of dentin. Dentin by its nature is yellow. Since I was a young child, I've mixed baking soda and peroxide to try to brighten my smile somewhat. When I grew older, I also employed a sonic toothbrush and water pic. I di...read moredn't want to use one of the dramatic versions of white strips in case it would remove the little enamel I have. These worked well to give me a much cleaner appearance and feel. I'm happy!

works

plus you get so many. i got a box of these and you get like 56 of them or something. great to keep in your desk or purse or car and give your teeth a little pick me up when ever you have an extra 30 min. keeps your teeth feeling cleaner too, i didnt use them as a primary whitener tho, i have other bleahing down but i like these, no sensitivity for me!

Ouch!!!

I don't know if these work because I couldn't get past the excruciating tooth pain they caused. It was sort of like paying $35 to get punched in the mouth, but with a disgusting bleach-like taste and a weird slime thrown in for good measure. Even the air hurt.
Back
to top