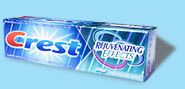 Its ok

For crest, I go for their gel toothpaste more then the actual paste. This isnt that bad...I wouldnt go to the store to pick this one out for myself but if i had to use it, it would be ok.

The crowd pleaser

I love this toothpaste. I was at an aunt's home and they had a sample in the cupboard so I tried and have not had another tooth paste since. It does as it says rejuvenates. I love it and my customers always talk about my white teeth. It is great and affordable. I love the product.

great

I am pretty picky about my toothpaste. This one gets a thumbs up. It taste good and really gives your mouth a refreshed feeling.
Back
to top