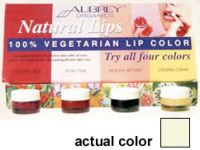 Aubrey Organics Natural Lips
As low as
It's Okay.

This is a good product if the colors work well for you, but I didn't like how it came out looking. I also feel that they could've made it in a more user friendly container. Difficult to apply, have to clean your finger, or wipe it on something after. If you are into natural products, this may work for you, although I think there are better ones out there.

Good, if you mix the colors

These lip colors are pretty good, although it is a bit of a hassle allpying them, since you have to use your finger to get the color out of the pot. Also, the colors in general are not super flattering, so I mixed the dark red color with the brown to make a nice red brown lip stain. The color stays pretty well, because it stains your lips, but it does have to be reapplied after a while. Overall: Pretty good if you like that red-brown shiny lip stained color and want to go all natural.
Back
to top