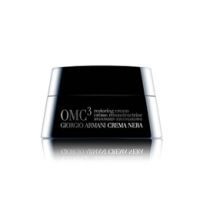 Giorgio Armani Crema Nera OMC
As low as
i need a users advice

i have been spending $$ i dont have on this Creme Nera product for almost 2 years. When i first was sucker, I spent around $250 on the product. Approx 5 mo ago I went to an Armani facial at Saks where one of the LEADING MAKEUP ARTISTS @ ARMANI specifically tells me to spend $100 less on their "new" eye creme that is "even better" than the previous purchase. Obviously, i thou...read moreght that Giorgio was getting ready to declare bankruptcy with their YEARS OF over-pricing their cosmetics AND/OR specific prouct was worth nothing... trust some opinions on this!!

Good brightening effect, but expensive

This cream comes in two packages. The cream only that cost $225, and the cream + obsidian stone for facial massage that cost $275. I'm 30, with combination/slightly dry skin. This cream is not for the lazy. First you have to take a small amount, warm it up in the palm of the hand, then apply it afterwards. They suggest using the obsidian stone to massage the cream in for improved effect. After ...read morea month of use massaging in the cream with the obsidian stone, I did notice my complexion to be brighter and I look more awake, and a small reduction in fine lines. But this is definitely not moisturiwzing enought for my skin, especially during the winter. I usually have to use a hydrating serum underneath for hydration. For this price, I rather spend it on other upper end creams. I don't plan to buy it again.
Back
to top