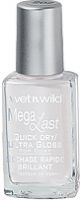 Review subject

It was an okay top coat, but nothing special. It was cheap, so for what I paid it was a good product.

Chips easily....

You get what you pay for. It chips after seconds of putting it on. The texture is not like any other top coat Ive ever used which i can just peel off. This one however just chips off like glitter.

Better than nothing...

Disappointed with WNW. The polish has a funny smell and is very thin and almost runny. The shine is a soft shine, almost a cross between matte and shine. It does dry fast but the finish wasn't good. I don't know how to describe it - sort of rough, definately not smooth and shiny. At first, I thought it was a fluke and I tried it again, but had the same results.
Back
to top