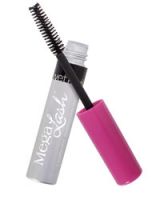 awful

for some reason when I use the wet and wild products my eyes end up watering. There must be something in it that I am allergic to, but not quite sure what it is. I don't have sensitive skin or allergies that I know of, but there is something in their cosmetics that makes my eyes water.

Ok

I just bought this product - I think they've reformulated the original. I was interested with the first use as the brush isn't the standard round brush, it's "flat" - it's the best way I can describe it. It takes a couple of uses to get use to it. I am intrigued with the idea that the "long" bristles do the applying & lifting, but the "short" bristles seem to separate. It seems to deposit a lo...read moret of mascara without giving me the "spider" look. By the end of the first day, it held up well on the top lashes, but my lower ones had "faded" a bit. I've used it for a week now and my curiosity is waning. The formula feels like it's already thickening & becoming a bit difficult to apply (working longer to take off extra & separate lashes). It still holds up well through the day, but I have thin lashes & I don't think it "Mega's" my lashes to my satisfaction. Overall - it's ok. I think I would stick to my Full & Soft over this.

Natural

It gives an extremely natural look. It's really easy to apply and doesn't seem to build up at all. When I touch my lashes it feels like there isn't anything on them (but it still adds a little color). I think that this would probably be good for a beginner or younger person or for anyone going for a natural look.
Back
to top