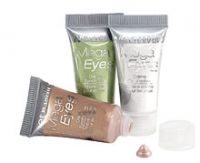 Not for me

Maybe good for Halloween but thats it. Too greasy made my eyes feel heavey on the lids. Goo like feel to it.

Good Stuff

My friend gave this to me a couple years ago in Champagne Toast, and I still use it today. It's creamy and shimmery, but the shimmer isn't too overpowering. I don't really use it alone, but it's great paired with other shadows. It definitely gives you a glamorous look. You have to rub it into your lids quickly though because when it dries, it'll get splotchy. I usually don't use creme shadows, but this one's great because it matches my skin really well.

LOVE LOVE LOVE THIS!!!!

I have been a BIG fan of this product for many years! I use it under regular powder shadow and it sets the makeup to last all day! I recently have been searching for the Cafe Au Lait color and was told by the website that it was discontinued! I am so happy to give this product a review, maybe they will bring it back!!!
Back
to top