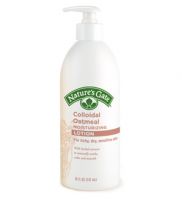 Not as good as Aveeno

For me there is no comparison between Aveeno and any other oatmeal lotion. This one just doesn't moisturize as well as Aveeno.

Cheap & Excellent

I own at least a dozen body moisturizers from the drugstore, one more disappointing than the next. I have very dry skin and am forever shopping for that perfect body cream. This is emollient, not greasy and my skin remains soft and hydrated all day. I love using this after my shower and can quickly get dressed. facial serum soon.

Nice light lotion with no scent

I searched high and low for a more natural, non-greasy lotion and finally stumbled upon this. I have tried several of the Nature's Gate lotions but this is my favorite since it doesn't really have a scent. I tend to get dry, itchy skin during the winter and this has pretty much put a stop to that. I just put it on as soon as I get out of the shower and it lasts all day. It is more expensive than I am used to and I go through it pretty quickly, but I don't see myself trying anything else.
Back
to top