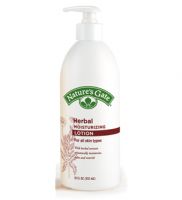 Nature's Gate Herbal Moisturizing Lotion for All Skin Types
As low as
good moisture, funky scent....

I mostly like this lotion. It moisturizes really well, but takes forever to rub in. But, that's something I can deal with if that's the price you pay for not having sketchy ingredients in it. The fragrance is a little much for me though, it's like floral and also too sweet for my tastes...I'm going to give it a little while longer and see if it grows on me, but we'll see. Not a bad lotion, I just wish the fragrance wasn't so intense.

Review subject

I really love this lotion. Nature's gate is probably my favorite organic brand; everything from shampoo to lotion never ever fails. This lotion smells incredible and it makes my skin feel really soft. You can also tell that it feels healthy and natural on your skin. There is a TON of amazing ingredients, all with skin soothing and detoxifying properties. I feel safe when I use this lotion. There i...read mores nothing "chemical" about this product. The only thing that bugs me about this lotion is how long it takes to rub in. My hands are literally tired from having to rub it in so much; it takes forever to soak in. Once it rubs in, however, your skin feels ahhhmazing.

A bit heavy

This moisturizer takes a long time to sink in, and I think that it's better to use at night. I also find it to be a bit on the heavy side, and it's something I might use in the winter, when my skin is really dry. I like the scent. Overall not bad, but there are better lotions out there.
Back
to top