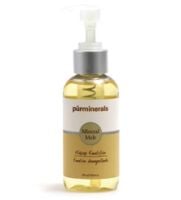 Pur Minerals Mineral Melt
As low as
Absolutely horrible

I can not even begin to express my disappointment in this remover. It was a complete waste of my money and this is not cheap. Yes, it is a natural remover, yes but the benefits end right there and that is why I gave it two stars rather than one! It easily absorbs into whatever applicator you try using. If you try to use your hands, then none of it takes off your make up and simply absorbs into your skin. Totally useless and a definite skip. Don't waste your time and money!

amazing makeup remover

This is truly wonderful!!! i bought it from tsc and it lived up to my expectations, i wear heavy liner and several coats of mascara and it really broke it down by massaging! Unbeleivable, good job pur minerals. Cleans off no prob by splashing water on the face. never felt like oil on my skin, just a light wash...smells amazing too.

Didn't live up to my expectations

I applied this product to my skin expecting it to remove my makeup and leave me with fresh, clean skin before going to bed. Much to my surprise it felt like I'd just washed my face with vegetable oil. It took not one but two washing to get the stuff off my face.
Back
to top