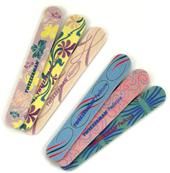 Tweezerman Fashion Files
As low as
I love these! Super cute colors too!

I've been into the neon trend for years, it will never get old for me! I will literally hunt down anything that is neon, from clothes, to shoes, makeup, nail polish, and everything in between! My current obsession is the Tweezerman Neon FileMates, I love the variety of neon colors that the set comes in!! I want to let you know how affordable these files are, basically a pack of 3 regular sized (...read morefull length) nail files in 3 different neon bright colors as seen below is sold on the Tweezerman site for only $7.00; plus you get a sleeve to carry 1 nail file with you on the go. This price is amazing and definitely worth it! Aside from the totally awesome color, this nail file is really amazing...here's what Tweezerman has to say about it: "Ignite your nail grooming routine with these new Neon Hot Filemates in three sizzling neon color combos. These files will match the stylish color of your nails and brighten up your purse or beauty arsenal in a flash. The new and improved professional quality files feature 100/180 grits for filing natural nails and medium sanding of acrylic nails." I've used dozens and dozens of different nail files, from glass, to metal, to cushion file and they're all great in their own different ways, and the Tweezerman Neon FileMates are on the same level as many other drugstore and high end nail files that I've used!

Fashionable

YEAH SURE, THESE ARE VERY PRETTY NAIL FILES. BUT DEPENDING ON THE SIZE, YOU'LL GET A PICTURE OF HOW LONG THEY'LL LAST. BUT IF YOUR BORED WAITING FOR SOMEONE AND PULL OUT THE GOOD OLD NAIL FILE, EVERYONE WILL SEE THAT YOUR FILING IN STYLE.
Back
to top