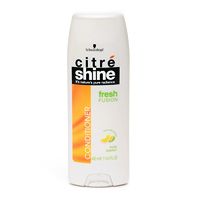 Citre Shine Fresh Fusion Pure Energy Conditioner
As low as
if youre a matter of fact lady, youll love this

my mom, the makeup hater, no time to waste, busy postoffice carrier, loves this. and the shampoo. makes your hair clean, fresh, fast. and smells like citrus, a smell she associates with cleaning products. ive used it too, and it leaves my hair light and full, and soft. cheap to [VALUE, i mean]

Love It!

Love the citrus-y smell and it makes my hair soft and shiny! mmm... im only giving it an 8 though cuz im sure there are tons better. but for the cheaper people it's really good.
Back
to top