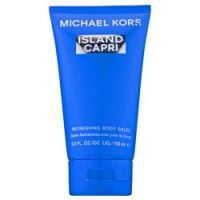 MICHAEL Michael Kors Island Capri Body Gelee
As low as
It's a moisterizer/lotion

It actually smells very good. If you tried it with water to see if it lathers (soaps up)-which it doesn't-you'd be able to tell that it's to put on ypur skin as lotion to complement the perfume.

Is it a bath gel or a moisturizer?????

I love the island capri perfume but no salesperson seems to know what exactly the body gelee that came with it is. Is it a body wash or is it a moisturizer?? So until someone can tell me it just sits unused in my closet as my perfume dwindles.
Back
to top