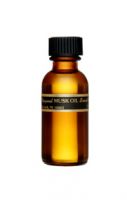 Kiehl's Essence Oils
As low as
Musk mmm...

I love the musk oil. I prefer this even to the spray. It is warm and sexy.

beyond perfume

Kiehl's Essence Oils have changed the way I think about perfume. I wear a combination of Original Musk and Grapefruit. I had always associated "musk" with "stink" but this is a wonderfully deep, warm, clean and comforting version. Mixed with Grapefruit (which is a yellow grapefruit, btw, an interesting change from often too-sweet pinks), it hits all the right notes -- from w...read morearm and soothing through bright and uplifting. I get more compliments than from any scent I've ever worn, all along the lines of "you smell great!" and "you smell so clean and wonderful" -- never "what perfume are you wearing?" The lasting power could be better, but the convenient rollerball applicators are small enough to keep in my bag; plus I enjoy the scent pick-me-up throughout the day. I plan to wear these forever.

Compliments x10

I've always been a fan of subtle perfumes or body oils. No Patchouli or Red Door for me thanks! I bought a bottle of this a few years ago in Toronto and I have NEVER gotten so many compliments from men and women for how I smell. A friend of mine told me after I had left a meeting, and one of the people in the meeting said 'she smells sooo good!'. It didn't hurt that it was a very handsome co-wo...read morerker. I would recommend this subtle musk to any woman who's tired of smelling like a bottle of weird flowers and bleach. It's the real deal, and there's something bewitching about the smell!
Back
to top