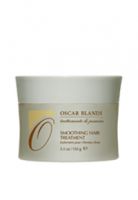 Great!

I've purchased so many of these and will purchase many more. I have thick, long, wavy hair and using this when it feels dry makes it feel amazing again. I love the scent as well. Amazing!

Actually reduces the size of my puffy hair

I try lots of deep conditioners trying to find one that makes my hair smoother and sleeker. This isn't perfect but it is the best one I have found. My hair is noticably less frizzy when I use it. The smell is awful, though. I like Jasmine a lot, but this is very fakey old lady perfumy jasmine. Wish it smelled more natural and light, but it's worth it.

The best deep conditioner I've used

I love the Balsamo di Jasmine conditioner, so I bought some of this, too, when I went to Sephora. My hair is frizzy and damaged, so I really need a super deep conditioniing treatment once a week. I put the Trattamento on after shampooing and let it sit for about 15 minutes. Using just a little bit eliminated the need to put in leave-in after my shower, my hair was so smooth and tangle-free. The product is a little spendy, but will last a long time beacuse very little is needed.
Back
to top