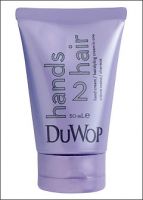 DuWop Hands 2 Hair
As low as
worked well enough

this cream is good for keeping in your purse if you need some extra defrizz on the go. you just dab a bit on your hands work into hair and then rub whatevers left into your hands.

Unnecessary

DuWop claims that this product is "revolutionary." Hardly. I've been running my hands through my hair after moisturizing them for years. I have very fine hair, but any type of cream or lotion I use on my hands can be run through my hair to tame frizzies and enhance separation. They want 17 bucks for this and expect me to add yet another beauty item to my purse? Puh-leeze.

good idea, but....

well, this was a great idea, but it falls a bit short. it was too greasy for my hair, but not moisturizing enough for my hands...what a dilemma!!
Back
to top