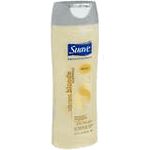 great for the money

smells nice, cleans well without stripping out the ohsoexpensive golden color in my hair, and keeps it soft and shiny. i grab this everytime i go to walmart and for some reason i always think its the first time i bought it....performance compares really well to sheer blonde and smells better than it does. bottle is unattractive [to me]

Blonde Ambition!!

This product, by Suave, is an amazing shampoo!! I am pampering my blonde locks each and everytime I use it. It is affordable and it works great!! Thanks Suave!!!

Blonde on a budget

This shampoo is a real budget saver when it comes to pampering color treated blonde hair. It's gentle but cleanses deeply, it's fragrance is light and pleasant.I'm quite pleased with the Suave Professional line!
Back
to top