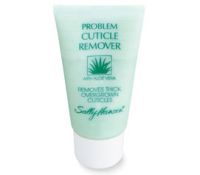 Worked pretty well

I've tried a few other cuticle-removing products, and this is the only one I'd buy again. It made my cuticles easier to push back and felt conditioning, rather than damaging. Some cuticle removers feel like they're dissolving your skin and make you fear for the skin around you nails that you want to keep. This didn't, and it didn't have a wierd chemical smell, either.

Didn't work at all

I tried this on my toenails and on my boyfriend's hands, and it didn't really work on either of us. I followed the directions, but it didn't seem to do anything more than a plain lotion would have done. I would not buy it again.

Nothing to Jump Up and Down About

Completely neutral. Satisfactory results, but nothing really different from any other product available.
Back
to top