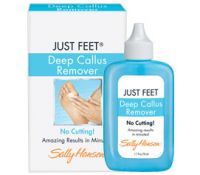 Callus remover

This simply does not work. The only way I know of to remove callouses, is to soak your feet and use a callous removal tool that scrapes off the callous.

Didn't work for me

I followed the directions on the package and I didn't notice any improvement at all. I used almost half a bottle before I finally gave up.

Terrible Results!

Not only did this product NOT get rid of my calluses, but I feel like it even made them worse! I was so excited when I bought this because my feet have hard, rough calluses on them. I used it exactly like the box said and nothing happened. I didn't even get a sensation from it. It was the weirdest thing! Not only that, but a couple of days later, I got what appeared to be tiny blisters that w...read moreere really painful. Thank God for my Adidas fitfoam flipflops, ha ha, or I wouldn't have been able to walk! I am trashing this product and I wouldn't recommend it to anyone.
Back
to top