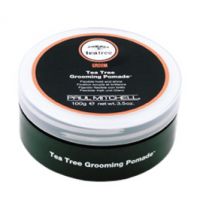 Paul Mitchell Tea Tree Grooming Pomade
great

so thick and waxy youd swear youd never get it out, but it totally washes right out! holds the flyaways down, makes your hair shiny and smoothes rough ends, and my son likes to use it so his hair stays up off his forehead, without being 'crunchy'. one tub will last you for ages too. smells like the shampoo, and is even good for dry elbows in a rush!

Man oh man

If I had not had this product when my hair completely broke off of the top, I don't know what I would have done. The story in a nutshell is that my blonde hair broke on top leaving me with a good size section of 1 inch long hair. Pretty; NOT! I have used this stuff for over six months while the hair grows out to "smooth it down" and to make the broken hair unoticeable. And guess wha...read moret??? It works wonderfully. No one that I've told about my breakage has ever been able to tell by themselves. I put this on the short hairs right after washing/conditioning, then I put a headband over to hold the hairs down. This has been a miracle product for me; one that has changed my life!
Back
to top