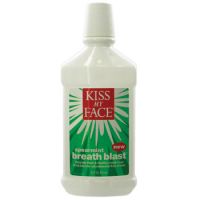 Kiss My Face Breath Blast
As low as
Great minty mouthwash, but pricey

This is a nice, minty mouthwash but it only comes in a smallish bottle that is usually over 5 dollars. The flavor is quite strong and I do think it keeps my mouth fresh. My partner ended up using most of my bottle because he's a mouthwash junkie. I probably would buy it again for myself, but with him in the house I'd spend a lot of money just on mouthwash. Still, he loved it and it killed even his smoker's breath so I can't complain about its effectiveness.

aloe mouthwash

A good mouthwash, can't believe it actually has aloe in it. Works great.
Back
to top