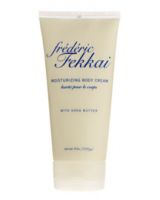 Worth the Expense

I'm a huge Fekkai fan,but have never tried his skincare products. I treated myself while getting ready for a family trip. I loved this product as its very emollient ,but its very rich and used it at night before slipping into bed. It ha a mild nutty smell that quickly dicipates, and won't interfere with wearing a fragrance if I decided to wear it during the day.

Could not get enough!!

I love love love this lotion. I have had red dry spots on my legs for years I have tried many, many different lotions from aveda to caress to olay quenche. The only this that seemed to work to get rid of the dry skin and the red dry spots was this. My sister had given me it and now I just can't get enough. Love Love Love It!

Frederic Fekkai Shea Butter Body Cream

I was disappointed with this body lotion- it smells and has the texture of a conditioner- I think that is mainly what I dislike so much about it. It does moisturize, but I just couldn't get past the smell or thought that I was rubbing hair conditioner all over my body.
Back
to top