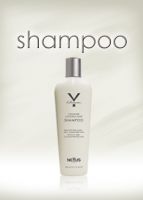 NeXXus Y Serum Younger Looking Hair Shampoo
As low as
For Younger LOOKING Hair?

Yes, I have aging hair, but I wish this formula were just targeted for hair - maybe dry and brittle hair. Not aging hair though. I really do like the shampoo, and my 12 year old daughter has even been using it. It is nice and thick, you only need a bit, it smells nice, and it lathers really well. I just do not get how it is marketed for younger looking hair.

Daily shampoo

This product is great for daily use. My hair seems to have a better texture to it and I swear that the cuticle is smoother, less frizz in humid weather.

Less hair loss due to breakage

I am very particular about my shampoo and have been using the Y Serum line for quite a few years now. I highly recommend it. I use the shampoo and the treatment (not thrilled with the conditioner--not moist enough for my tastes) and can honestly say that I lose far less hair due to breakage than before I started using it.
Back
to top