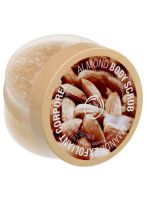 The Body Shop Almond Body Scrub
As low as
Exfoliates well...but that is about it

This product exfoliates well, but that is where the good stuff ends. First, it doesn't smell almondy - it smells nothing like their other almond products. Most importantly, however, it leaves a significant residue on your skin. So much so that if you scratch your skin you will end up with a bunch of gunk under your finger nails...kind of gross. It is also incredibly greasy, making the product hard...read more to close. Finally, the product tends to separate very quickly with all the oil ending up on the top. The body shop does make good body scrubs, but this is not one of them.

Pretty much ok...

This scrub is quite greasy, it leaves a strange layer of oil on my skin after I rince it... Besides that, it does exfoliate decently but I'm not really fond of the smell, it's artificial to me. Too pricey for the quality.
Back
to top