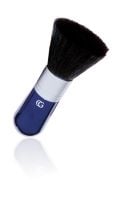 Sheds Quite A Lot!

This brush sheds quite a lot, which is why I wouldn't recommend it at all!

Don't bother

This looked like an adorable, soft little kabuki brush. However, I tried it, and ended up returning it because it was really stiff, was really awkwardly distributing my make-up, and was shedding. I'm just going to look at Sally Beauty supply for a nicer brush. I know it will be more expensive, but it will also actually work.

Not worth the risk

I needed a new brush desperately but I of course, stupidly, didn't feel like paying 20 dollars. I hate this brush, I tried it out for a week, trying to give it a solid chance, and threw it away. It does shed constantly and I felt like it was rough and prickly. It seemed like it'd be a nice brush but I just hated it! I guess I learned my lesson, not to buy a brush because it's inexpensive.
Back
to top