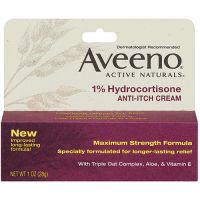 Works, but not so fast

I used this cream to get relief of insect bites. The tube is small, but all I need is just a dab since the cream is very concentrated. The relief was not as instant as I wanted it to be, but it worked certainly better after using it for 4-5applications in two days. I think Aveeno's another anti-itch cream, "Aveeno Calamine and Pramoxine HCl Cream" seems to work better for us.

Soothes my eczema!

I've been a sufferer of eczema since birth. At specific times during the year, my skin breaks out and I keep scratching and scratching until once again...there's a glorious patch of it on the crook of my arms and back of my knees and thighs. (I know, great huh?) But if I use this, it clears up in a week or so. It's not greasy, nor is it not moisturizing enough. The only thing I don't like is the smell. Kind of...medicated smelling. But it is not too strong or unbearable.

Works Pretty Well for Ezcema

I have had ezcema since I was 18 and a half. It just came out of nowhere, nobody in my family has it. Ive used a few different products for it and this one is the best one so far. It doesnt make my ezcema itch more once applied like some of the others do. It clears my ezcema patches up in a few days depending on how bad is the outbreak, just keep applying it everyday when an outbreak strikes. To rid yourself of that medicine smell, apply aveeno lotion after. it helps.
Back
to top