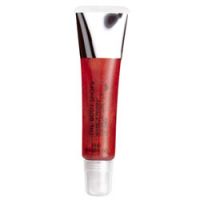 Not great

I received a free mini lipgloss as part of a free gift with purchase. I'm kind of disappointed... Although there is a nice amount of color, and great color choices, the "passion fruit" smell is incredibly strong. So strong that it might be giving me a headache! The texture is slightly tacky, although the tackiness helps it stay on better. Overall, a great gloss except for the SMELL--I'd only buy this product again if they nearly eliminate the smell.

Pretty but sticky

I really like the shine this gives on my lips but it's too sticky. I prefer my lip products to be soft.

Pretty good, I guess.

I tried out the colour "Pink Cream" and it's a pretty...well, light pink, color on me. Not too shiny to the point of it being tacky, nor is it too sticky--but your hair WILL stick to your lips on a windy day. (As expected from any gloss) It lasts pretty long, but I could do without the "Passion fruit" scent...it smell nice but a bit perfumey...and on initial application, it taste a bit funny because of it.
Back
to top