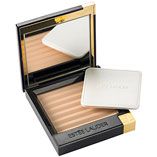 Dial down shine with high-quality powder

Those who value their portability will be annoyed by Estee Lauder's clunky packaging. And just about everyone will want to ditch the applicator AeroMatte comes with and use a large brush instead. Packaging considerations aside, AeroMatte is finely-milled pressed powder that absorbs oil without revealing that you're wearing anything at all on your face.

Estee Lauder AeroMatte Ultralucent Pressed Powder

Another wonderful product from Estee Lauder. I wear the translucent. It adds no color but completely transforms your makeup into a soft finished look.

Look younger

This is the product if you are starting to get age spots or skin discoloration. Makes your skin flawless.
Back
to top