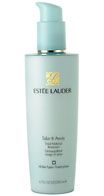 Really good

Smells really pleasant and it takes off makeup very easily. I don't have to rub or tug on my face to remove the makeup.

The worst

I have to say I tried a sample of this and I hated it. The packaging is great. It is creamy and almost waxy. I massaged it into my skin well and rinsed with warm water and wiped it of with a damp face cloth. It really did not come off. In fact the water beaded (like at a carwash). It is very heavily fragranced and badly irritated my skin. It made it red, burn, and itch the rest of the night...read more. I washed my face again with my regular cleanser and was shocked how much dirt and oil still came off in my face cloth. It is very expensive-much better stuff out there at a more reasonable price. I have sensitive combination skin, and have irritation issues withe Estee Lauder skin care products from time to time, but usually their products work well. I was surprised and disappointed with how bad this product was. Maybe I'll try it on the car...

Not the best

This makeup remover has a watery cream texture and feels a bit greasy on the face after you rinse it off. It doesn't remove my makeup 100% so I would have to use a second makeup remover. It does have a refreshing scent.
Back
to top