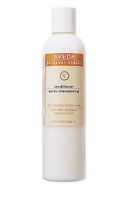 Aveda Personal Blends Conditioning Formula
An Olfactory Experience

I had an opportunity to have my "signature" fragrance designed for me by my stylist and it was an olfactory experience. I closed my eyes and my stylist passed various organic scents under my nose. After each passing, I smelled coffee beans to cleanse my nose palette. The one I choose, my stylist added to a conditioner. I might have been influenced by the ambience of the salon because...read more when I used my personal blend at home, I didn't care for the scent I had chosen. In addition, the conditioner wasn't as rich as the one I normally use, but was a good choice of conditioner for normal hair.

Wonderful way to Keep your hair bright!

I love that I can totally customize these products to suit my needs. I have a couple sets, scented to match my daily moods: a nice relaxing girly scent (#3, I think) and a refreshing minty one for when I need some extra energy. I can tailor the color (a mix of red with a touch of violet) to keep my hair color going strong between dyes, and yes, sometimes to prolong the necessity of them. My only c...read moreomplaint is that I wish they would offer this in a more deep conditioning formula, but I am guessing that perhaps they are concerned that the coloring agents could be left on the hair too long. So, I alternate with other, more conditioning formulas.
Back
to top