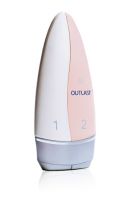 Good Product.

I think this is a good product. I bought it recently and when I took it out to use it, I noticed that it looked crackely and sort of separated in the tube. It concerned me. I have no way of knowing if it is poor quality or if it sat on the shelf for a long time at the store.

I Love This...

I was used this and I hated it I don't know why but than a month or two after I got it I tried it again and love it .I find that it does last all day but I find that it dries kind of quickly so I have to be kinda quick about getting my mac 187 and blending other than that I love it I find where I live is kinda hard to find .The primer works outstanding however it's kinda annoying that you can't ju...read morest get the primer .But I will definitly get more .It does stink I mean it's not a stink to the point where I can't where it .Maybe I got a bad one .The price is good at but yet I can find department store foundation at the same price.

like an airbrush

i love this product because its a full coverage makeup that looks like you've been airbrushed,and it stays on all day..i tryed it through a free sample and i loved it,i couldnt wait to buy it...you cant feel it on your skin at all.i never needed to touch up.mmmm.