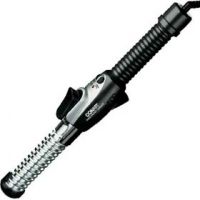 Conair Instant Heat Curl Press Spiral Styler
As low as
Awesome!

This iron looks really complicated but it was actually really easy to use! It does have two buttons, but you only have to press one at a time. My hair looked great; it was definitely worth the cost!

BEWARE- Complicated Contraption!

Wow... I am very disappointed with this "styler". When I first saw it at the store I was "intrigued" by it's look and thought that I'd finally be able to have those "cute, bouncy" curls. Well, I thought wrong. This is by far the most complicated contraption I have ever used! I have medium length hair (just below my shoulders) and this product is definitely not for it....read more It has 2 buttons to control; 1. you push the button on the top to hold the ends of your hair in place (which is about a 1/2 inch long) ; 2. You have to hold down the button on the bottom while you try to counter clockwise wrap your hair in the spirals, then you release that button to hold your hair in place... When you're ready to release your hair you have to push both buttons at the same time. When I finally got my hair placed correctly in the spirals, the spirals didn't even look good, plus the stupid thing got stuck in my hair! This is definitely not worth the effort, time, or money.
Back
to top