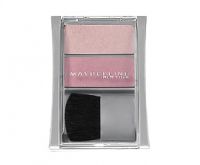 Blush

I am staying away from any Maybelline face products. This does not last, and the colors are not good.

Streaking Disappearing Act

The title does sound odd but true. Just don't take it into the wrong context. First of all the blush brush this came with is hardly useful as I've found that bristles were rough and not dense enough to collect a good amount of color, but why bother ranting about that when most applicators that come with products aren't the best quality anyway, right? The casing itself isnt too bad, hardly durab...read morele though as this will crack or chip if it's dropped and it means less shock protection for the makeup itself. The blush duo hardly did anything for me. I'd have to apply this layer upon layer to get anything to show from the pinks. Deeper skintones usually need richer colors but in my case, I'm a light medium skinned lady. Which means the medium pink shades should compliment it but it went on a bit streaky and uneven and in a few hours, it disappeared on me not that it even mattered since I felt the finished result was mediocre and not in the least bit flattering. My own review is basically saying that this product did not impress me; I'd perhaps even be better off using the lighter pinks as a highlighter since it is used sparingly and more effective that way if I had to put the rest of the palette to use.

Light Pink

I got this so I could have a highlighter along with a blush. This duo works as well as the regular blushes but the packaging makes a little difficult to grab just one color with my blush brush. Otherwise it does not fade too much, and did not streak on me.
Back
to top