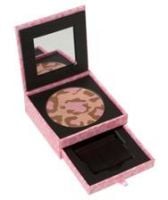 Natural and Ultimately Flattering!

I was attracted to the animal print of this bronzer. And then I tried it. It is the consummate mix of blush and bronze (with slightly noticeable golden shimmer) to give your skin a glow and radiance which will long be remembered.

Too Faced Pink Leopard Bronzing

This is a good bronzer. It has good pigmentation and goes on smoothly. It has a great color. Very natural.

perfect blend

pink leopard is the perfect blend of blush and bronzer. in one sweep you get both effects on your cheeks. the color is very flattering and i can see both blush and bronzer on my face when i use it. i like the color it gives me. i think it might be too dark on a light skinned person though.
Back
to top