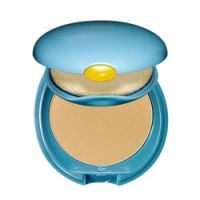 great if you can find a color match

I could never find my true match, but this is great for the outdoor sportswoman but do not recommend applying damp, it does nasty things to the product cake, save your case it is refillable, when I use to manage the counter my asian customers use to swear by this for their faces!

My new must have!

I have moved to Texas and needed a better SPF. Since there is no time and place to redo your liquid foundation during a work day I needed a powder SPF to reapply as needed. This product is wonderful! High SPF, great build-able coverage, no scent, and perfect shade for me! I love the case as the applicator is away from the make up which helps prevent contamination and makes the product last longer. I have repurchased this product three times already!

Love this powder

After researching powder foundations with SPF, I just purchased this week. I have worn it only two days but am in love with the product. The color choice is a bit disconcerting and you will most likely have to "settle" for the color that matches you the closest. I am fair but went with the SP20 which has a slight pink tone to it. I would recommend going to the counter and testing the samples on yo...read moreur face and then go outside into natural light to pick the best choice. It will accentuate any dryness on your face, but I live in humid south and need sunscreen that does not add oil or moisture.