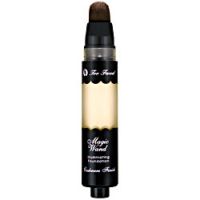 Magic Wand Foundation

I hate this product. The brush gets gooey and you have to use your fingers anyway to blend. I wash the brush to eliminate bacteria. It's a good concept, but even the product itself has little or no coverage.

Illuminating

I love this stuff & I'm not a big liquid foundation fan. Too Faced is one of the few brands that offers a color that matches my olive complexion perfectly. I have acne scars & usually I can't get great coverage without going heavier on application, especially with liquid foundations but this one covers me up very well with just a little product. It's also light which is important to me because I g...read moreet a little oily at the end of the day & heavier products make my face feel dirty & look cakey. This also has nice staying power & didn't make me break out like most other liquid foundations (yay!). I still prefer powders to liquids, but this one is one that I don't mind wearing at all.

#1 Foundation

This is the best foundation I have found for everyday use. If you have oily skin this balances it out-if you have dry skin it adds moisture without adding oiliness. You can use it for sheer coverage or add to it to get flawless skin! I can go on and on about it but I suggest you go to Too Faced website and read about it because the benefits on this foundation are the best on the market!