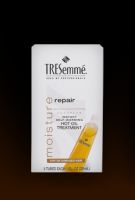 Oh no! I used all I had left and it's gone?!?!?!?!?!

I know tons of people are wary of hot oil treatments, thinking that they'll simply make your hair greezy, but I assure you that that's not the case. I try to do one about once a month, and it makes my hair super soft and shiny and actually INCREASES the body in my fine, flat hair. The hot oil gives deep penetrating moisture to hair that has been damaged by heat, styling, coloring, over brushing or...read more enviromental exposure. I know people who swear by hot oil treatments to extend the life of a dye job. After doing one of these last night, my hair actually has a bit of 'puff' to it. I like the TRESemme brand because the tubes are slightly larger than the average sized ones and I have LOTSOHAIR.

tresemme hot oil treatments

ABSOLUTELY the best product for making your hair look and feel like a million bucks. I am so disappointed to know I can't get this product anymore. my hair has suffered tremendously the last couple of years due to not having regular hot oil treatments. I have tried Vo5 and it doesn't come close to the same results as tresemme. V05 actually weighs your hair down and makes it heavy, right the opposi...read morete of what you're hoping for. I won't buy anything but tresemme and yes that means I haven't had a treatment in years. I would love to be able to purchase tresemme hot oil treaments again.

Excellent

A shame so many stores quit carrying this product. I love it and have used it on my hair for years. I have long curly hair and it takes alot of product to control it. The tubes are so easy to use you do not have to preheat it like some hot oil treatments. I remember some you had to place tub in cup of hot water for a couple of minutes which never really "warmed" the product. Tressemme also has a l...read morearge sized vial of oil to use and with my thick head of hear its perfect to coat my hair. My hair is more maneagle and shiny.
Back
to top