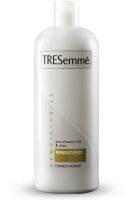 Not Bad

As with most of the products from this like it does work and it is cheap and you get a big bottle for a great price. I will buy again but it will not be my regular. Conditions hair pretty well, I am sure it is better on wavy or straight hair then my frizz ball.

It works well.

For a budget conditioner it works very well but i cannot say that i will buy again unless i am too broke to spend the extra couple dollars on the conditioner i prefer. It does condition but i find that i have to use more hair products with this than with my fave.. less products =less $

I've never been dissapointed with Tresemme

I love their products! I have a sensitive scalp and this doesn't aggravate it.
Back
to top