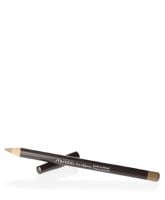 Shiseido The Makeup Eyebrow Pencil
As low as
Finally, an eyebrow pencil that matches my eyebrows!

Filling in my eyebrows is a must for me whenever I go out and I have tried MANY products/brands, trying to match my eyebrows (I am Asian). Unfortunately, the products I have used are usually too red or too dark. I finally bought the Shisedo eyebrow pencil in Natural Black and I have my natural eyebrows back! It also stays on for most of the day and I don't have to use a lot of product since it goes on smoothly. Love it and will continue to use it.

it's good...

i like this eye liner, love the color... been using it for a while now. my only complaint is that i hate sharpening the pencil, i wish they made them so that you can roll them up.

Love it

This is my favorite eyebrow pencil. The color matches perfectly and it's just the right texture. It looks very natural.