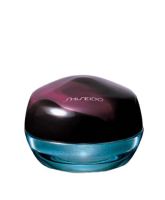 Brighten up my eyes

Over the years I have tried a few different Shiseido eye shadows. One of my all time favorite colors is Hydro Powder in "Bare Pink", which is more coppery peach color than pink. The Hydro-Powder shadows are silky smooth, and this one is just the right color to compliment my brown eyes. This shadow is a bit more expensive, but at least the color stays and does not crease throughout the da...read morey. For bold looks, I use MAC, but for softer and pastel look, I love Shiseido & Clinique eye shadows. BTW, my other shadows are usually a rectangle or square shape including an applicator or a brush, and sometimes even a mirror. But as you can see on the image, this one is a round shape. Although a sponge tip applicator included, I have lost the applicator a few times since it came separately.

Just okay

I have Shiseido's Hydro-Powder Eye Shadow in blue and gold and the colors are great. For me, the shadow settles in my creases if I don't go over it with with pressed powder or a nude eyeshadow. I found that if I don't use enough of it, since it's so light, it will not settle into the fine lines of my skin; the solution I've found is to layer the shadow on - it also helps to give a brighter color. ...read moreSometimes I use them as a eyeliner, too. I don't think it's worth the $23 because there are better cream shadows out there. But the colors are nice.

Versatile shadow

This shadow is fantastic. It goes on very easily and you can apply as little or as much as you want for a day or night look. The staying power was pretty impressive, even if you put very little on, it's a nice, noticeable look all day long. My absolute favorite shadow!! There's also a whole lot of shadow in the pot considering how little you need for your look, so it's really a great deal.
Back
to top