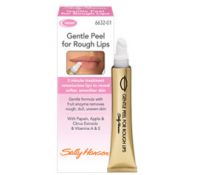 Not for me.

I used this had to look it up because I lost the directions. It does work sort of. Its pretty much for those who barely have any dry lips. Only worked on the parts that weren't rough. Like I said I looked up the directions after I found under it the studies. After reading the results I will never use this again. Not only was it tested on animals they grew tumors (cancer). I highly suggest this b...read moree a no buy. I would post the link but it wouldn't let me just google sally hansen gentle peel for rough lips directions and see what your results are.

It's alright

Nothing special. Does not do what i expected it to and the effect does not last long.

No noticeable difference

I only have chapped lips in the winter- and I bought this to get that gross dead skin off. Its too gentle to work for that purpose, though. As a conditioning treatment this is fine, but I don't think this product actually exfoliates. Instead of buying anymore exfoliating products for your lips, just try adding some sugar to a dab of honey and rubbing it on your lips for about 1 min- that will get the dead skin off. You can follow up with this and end with a moisturizing lip gloss.
Back
to top