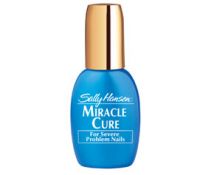 Did not do much....

I like this for a base coat because it dries pretty fast but for a nail strengthener I found that it didn't do much for my peeling nails in agreement to what some other reviewers said. My nails are pretty hard already but they keep chipping off so I bought this hoping that it would cure it. It doesn't work and my nails are still chipping off. The other thing I don't like about this product is that...read more it gets really goopy when close to the bottom and the product becomes really stringy and annoying. Will not purchase again since I'm out.

BEST drugstore nail strengthener

I have soft nails, and one nail that just cannot stop splitting and peeling. I have tried many nail products, from other Sally Hansen products to OPI's Nail Envy, and this works the best by far. Within just a couple days, my nails are stronger and healthier. I just wish it gave me long term results- I have to use it regularly to see the 'miracle'.

My nails are still peeling

Been using Miracle Cure every day for 2 weeks and i,m still waiting for the Miracle to happen not made one bit of differance to my nails.
Back
to top