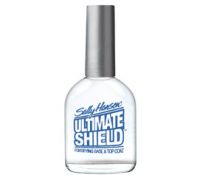 Sally Hansen Ultimate Shield Fortifying Base & Top Coat
As low as
Super Shiny Shield

I buy this product regularly. It's definitely one of the better topcoats I've tried (haven't used it as a basecoat), at the best price. It goes on shinier than most, and dries relatively quickly to a hard finish. It resists chipping for a couple of days, which in my experience is the longest any polish has resisted chips (pricey or cheap). I'd recommend it.

Good price good quality

I use my hands a lot and my mani lasts about a week with this base and top coat. I'm very satisfied. Will definitely purchase it again.

Better as a top coat than a base coat

This product initially appealed to me because of the convenience of having both a base and top coat all in one bottle. The direction says to apply on bare nails, let dry, apply 2-3 coats of nail polish, let dry and then apply over the nail polish. Well, I followed the directions to a tee, letting each layer dry thoroughly. I was quite disappointed when, after two hours, the color on the tips of...read more my nails sort of started peeling off. I figured it's either: the product isn't compatible with the nail polish or the layers are simply too thick to dry completely. Keep in mind I made sure each coat of both the Ultimate Shield and nail color was dried before applying another layer. I've had to re-do my nails after that and decided that instead of applying a base coat that I would just apply my nail polish directly on my nails and use this as top coat. Viola! Problem solved. No more peeling color. I would've given it a slightly higher rating had it not been for the problem I experienced.
Back
to top