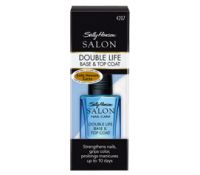 It Works!!

I love this product, iv'e had nail polish on my nails for a week and it hasnt chipped off. This is the longest the nail polish has stayed intact. The product goes on smoothly before and after, but you really have to wait a couple of minutes before you apply the actual nail polish, if not its going to get smudged, same thing goes when applying sally hansen afterwards.

Long Lasting & Quick Drying

I love this for two reasons. First of all, it dries amazingly fast! Literally, my nails are dry in a matter of a few minutes. Secondly, this does exactly what it says, it doubles the life of normal nail polish. My normal polish chips in just a few days. When I use Sally Hansen Double Life my polish lasts for at least a week. A great and inexpensive buy.

Actually Works!

I basically never paint me nails because it's a total waste of time for me. If I paint them one day, there is almost always a chip by the next. If I take a shower in the same day after painting them, there would for sure be a chip! I have used base coats and top coats before, never with much luck so I was hesitant, but thought I'd give this stuff a try. It works! I use it as a base and top coat...read more. I can go probably three days without a chip and that is saying a lot for me! I've heard that reapplying it every couple of days can also help to extend your polish so I plan on giving that a try soon!
Back
to top