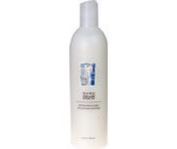 If You Like VERY Sleek & Shiny

This product is great if you like that really slick, straight look...but if you want any amount of body then don't use it. It totally flattens the hair and makes it look kind of thin...but shiny. I always need body so this isn't for me but someone doing the sleek, shiny straight hair look this is perfect.

best product for making frizzy light weight hair sleek and smooth

awesome product. i have tried tons. i have thin hair that frizzes and curls with any amount of humidity. this product is far above any other on the market for managing this.

Makes my thin, flat hair shiny and soft

Okay, so you have to use a mousse or a thickening product alongside this lotion if you've got thin, flat hair like me. But I'm used to using 3 products at a time on my hair before blow-drying. Yesterday, I was feeling like my hair was dry, lifeless, and dull, so today I decided to pull out my Rusk Str8. I feel like a new woman, as lame as that sounds. My hair is so shiny and soft, not stringy or...read more greasy at all. I forget how much I love this product...I've had it for YEARS and it's still good! You can definitely leave this in your hair product stash for awhile...using it every now and then, or frankly, every day. I probably should be!
Back
to top