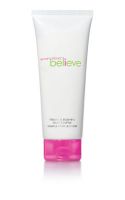 Like

Smells very nice

Great for scent layering

The scent of this perfume translates well into the lotion and thankfully didn't somehow get that funky soapy note that often ends of in scented lotions. It is perfect for layering with the spray perfume to keep smelling good all day. Best part is that this lotion actually WORKS instead of being nothing but a tube of nasty, runny, smelly lotion like a lot of other perfumed lotions.

Love it as much as I love the perfume it self!

This is by far the best smelling body souffle I have tried in my life! It goes perfectly with the perfume, and if you wear it alone, it still smells marvelous! This came across as a shock to me, seeing as how other matching lotions for perfumes smells horrible and don't absorb well into the skin, making it feel greasy. Lucky for me, this one doesn't! In all honesty, I don't think I could live without any of the Believe products at all..
Back
to top