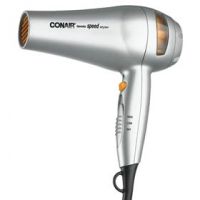 decent!

I don't like to spend a lot of money on anything. I am happy with this though. I guarantee from experience it'll dry your hair faster than a non-ionic dryer. It looks nice too. If you don't want to buy an expensive professional dryer but want to upgrade from an old-fashioned one, you'll be happy with this! Check my pic.

thank you

I bought a conair hair dryer last year and the weight of it was crazy! This one is so much lighter. I have carpel tunnel and this thing is a big improvement.

Crap!

I\'d use it in an emergency. Doesn\'t produce enough heat to make a difference.
Back
to top