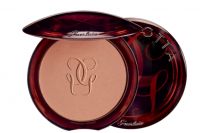 Easy and long lasting

I bought this on a recommendation and have really loved using this. I have fair skin so I have to be careful with bronzers because they can look muddy or orange on me. I bought this in the shade 03 and it works well for me. A little goes a long way, but it isn't tedious to apply at all. The formula is actually quite forgiving. There is no shimmer so this is great for contouring the face. I s...read moreee this little compact lasting me a very long time. Although this is a powder, it is rather moisturizing which is what I think makes this so long lasting. Sometimes bronzers can go patchy as the day goes on but I have not had that issue with this at all. I have to dock some stars just because this is a $50 bronzer which seems exorbitant. Luckily, it doesn't seem that I will have to repurchase this for quite some time.

It's a classic, a must have

In my opinion no other bronzer powder beats Guerlain one. It's simply the best. It's a classic that in my opinion you need to have in your make-up bag. I don't use so much blushes. I prefere to use my terracotta from Guerlain. I have one light shade for winter and change for a darker color in summer.

Totally worth the investment

This Guerlain bronzer has been my go-to fave for years. I've been through about 4 of them and have replaced it every time. Not only is the packaging completely worthy of showing off, the bronzer itself has just the right amount of shimmer to give an authentic-looking sun-kissed glow. Also, the quality is amazing, as I have been known to drop it on the odd occasion and it's survived without cracking each time.